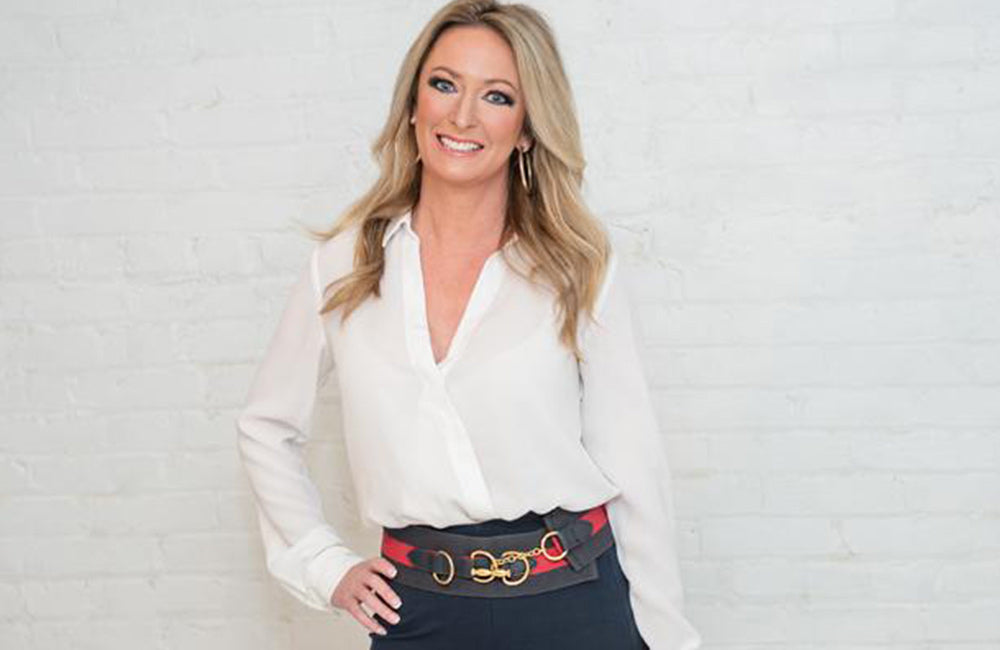 Pretty. Rugged.
These words not only describe a wildly popular blanket, they also succinctly describe Tracy Slocum, the founder of the company that sells them. 
Pretty Rugged is the brainchild of this daughter of water. Tracy's great-great-grandfather, Joshua Slocum, became the first person to sail around the world alone in 1898. He is credited as saying, "The days pass happily wherever my ship sails." His love of the water was evident, and Tracy inherited this family trait.     
Now, over a century later, his family can still be found spending much of their time on the water. "Joshua was my dad's great-grandfather," she noted. "We're boaters and we love the water, but I have always really enjoyed sailing."
Seeking Warmth
Pretty Rugged was founded out of her need for a warm blanket that would keep her dry on the boat in all kinds of weather. She began searching for such a blanket and found there was nothing like it on the market, so she made one herself. That is where these luxurious blankets began. Tracy created the world's first blanket with the finest luxe, faux fur on one side and waterproof, windproof RuggedTex® fabric on the other.     
"We have a home on Lake George and spend a lot of our time there. The original prototype was one I really made for myself; selling it wasn't the reason I initially made it. I began taking the blanket to my sons' games, concerts, and using it on the dock and by the fire pit. It wasn't long before my friends started asking for the blanket, so I thought it just might be a business that could work," she smiled.
The name, Pretty Rugged, came from a night out with her girlfriends during the summer in 2017, "We were all shouting out different names, and I remember saying, 'It's pretty and it's rugged, so we need to think of it that way,'" she recalled. "We all looked at each other and said, 'It's a perfect name because it's a name and definition of what the product is.'" 
Local Connection
Tracy was born and raised in Albany, New York. She graduated from Shaker High School, then Lemoyne College with a degree in psychology and a minor in biology. After graduating, she went into pharmaceutical sales and spent nine years working for one of the largest pharmaceutical companies. 
Tracy married her husband, Daren, who also grew up in the Albany area, but they didn't truly connect with each other until after college. They married in 2001 and have two sons, Michael, 16, and Charlie, 14. "Nine seems to be my lucky number, so after nine years as a stay-at-home mom, I went back to work and opened a specialty food store in the Albany area. We sold that business right as Pretty Rugged was taking off."
"Bringing these blankets to life has been an incredible experience. They are designed here in Albany, with the support of an incredible designer who is able to translate the idea into a sketch and design concept. From there we work with our factory to make sure the end result is exactly what we want," Tracy shared. "We have incredibly high standards and bringing the best to our customers is the most important thing. There's a lot of back and forth to make each element perfect."
Getting Started
There have been a lot of lessons learned in the first year. Tracy describes it as an exciting roller coaster, especially when she and Sheila Mendleson, her business partner, walked into their first trade show in New York City. "We sold our first blanket in November 2017 and shortly after that we decided to get a booth at the renowned NY NOW trade show in New York City in February 2018. Looking back, we were really flying by the seat of our pants with that decision. Neither of us had worked a trade show or had been to one," Tracy laughed.
"We walked into the Javits Center completely blown away! Most of the companies recreate mini-stores for their booths! And here we were with paper walls, our first set of blankets and cardboard photos, which kept falling down. We felt like such a small fish in the biggest ocean. But we knew we had an amazing product, so we entered Pretty Rugged in the NY NOW awards; 'Hey, you never know,' we thought. Well, sure enough, we won Best New Product, beating out hundreds of other companies, and went on to win Best in Market for all the products there," Tracy smiled. "We knew our blankets were great, but this validation from industry experts was incredible and we're still harnessing that feeling to build a world-class brand."
Being a women-owned and women-staffed company offers amazing benefits. Tracy works closely with Sheila and her small team. "I always knew I wanted to work with the best and brightest, and I just happened to bring together this amazing group of women we have working with us today. Some of them are based out of our Albany office and the rest of our team work from their homes in San Francisco, Boston and England," shared Tracy. "I know how important it is to find balance as a mom and business owner, so it's something I encourage with the team."
Teamwork and Success
She understands that in any business, it is the people you work with that make your successes come true. "We are a small team; there isn't one person who creates the amazing culture and success we've had to date. This is a group of incredible women dedicated to Pretty Rugged. It's been incredibly rewarding, humbling and inspiring to see this team come together and work tirelessly to get to where we are today."
Her original blanket is still the most popular; last summer they expanded with a pet and baby blanket, and a custom-made vest with a waterproof lining. This past holiday season saw the addition of their latest product, a faux fur wine bag with a waterproof lining. A number of new products are in development for 2019, which Tracy is very excited about. "The product line expansions we have coming this year are an evolution of everything we've done to date. I'm so excited about what's to come; we're just getting started," she quipped. 
As the icing on the cake for their first year in business, Oprah Winfrey selected Pretty Rugged's pet blanket as one of her favorite things in 2018. "We knew Oprah's team was considering Pretty Rugged for her favorite things list, but it's so competitive and Oprah truly hand selects each of them. We had no idea what would happen." 
More Success!
"I became obsessed with checking my email around the time they tell the companies they're on the list," Tracy continued. "It was a Saturday morning and I had taken a break from vacuuming the house to check my email. At this particular moment, I honestly never thought an Oprah email would pop in my inbox. But sure enough, there it was!
"I read the first sentence: 'Congratulations, we're excited to inform you…' I didn't read the rest of it. I stood in my family room having an out-of-body moment; it was the most surreal feeling. I went to call my husband, who was running errands. No answer; my kids were sleeping, I couldn't reach Sheila. Everyone I wanted to tell was unavailable! I wanted to scream it from the rooftops! I did finally get hold of everyone and it's one of my proudest moments."
When she's not busy with her company, Tracy adores spending time with her family, which is usually around a meal, and this is very important to her. She loves to cook and it's something she does to relax at the end of a long day. She is proud that her family sits at the table and eats dinner together each night.  
For Tracy, this experience has been amazing. "At 45, I started my own business. Honestly, sometimes I have to remind myself of that fact. It's a part of the Pretty Rugged story that I want to share, especially for women who have been out of the traditional workforce raising a family or taking care of others. As women, we can so easily lose ourselves trying to achieve perfection—the perfect mom, wife, daughter, friend, you name it. We need to learn how to break the mold so we can achieve our own dreams while helping others achieve theirs. But most important within that, we each get to decide what our dreams are; no one can tell you what it should be. I hope women can see, through my story, that you can do whatever it is you want to do. You just have to decide."
These are perfect words to live by in the beginning of a new year. ■