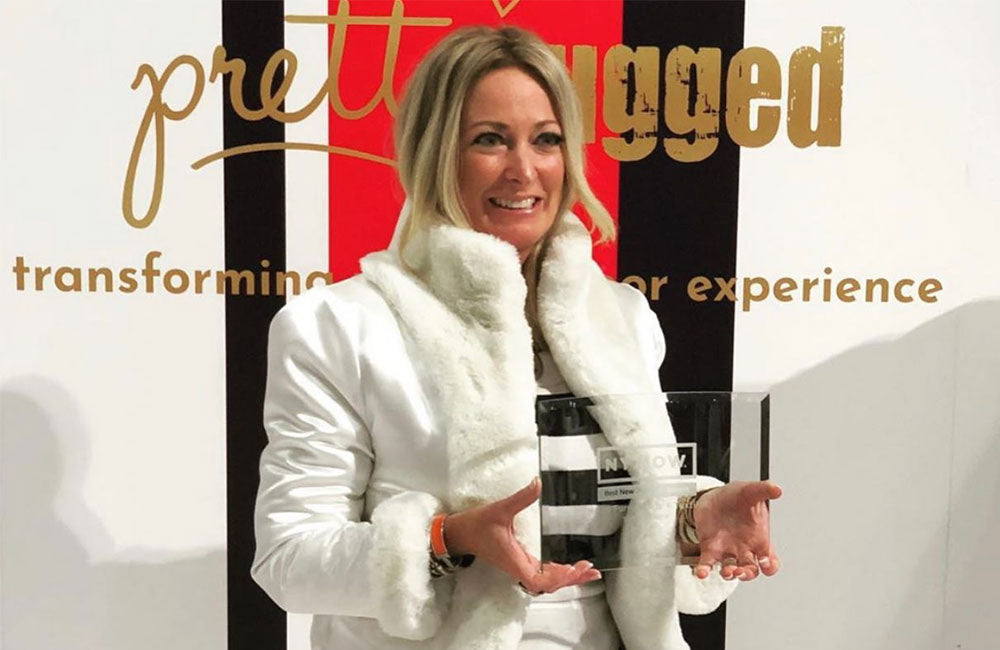 NY NOW's "Best New Product" Awards recognize and celebrate the extraordinary product offerings from exhibitors across the market. Hundreds of exhibitors entered the awards and one winner was chosen from each of the eleven sections within the HOME, LIFESTYLE and HANDMADE Collections currently on display in the Jacob K. Javits Convention Center.
"It's gratifying to see the level of excitement and enthusiasm amongst exhibitors, celebrating each other's successes and to see those innovative products being recognized by the industry as standouts in their categories," said Kevin O'Keefe, EVP, Emerald Expositions.
Winners and Special Mentions of the summer 2019 "Best New Product" Awards are below:
CATEGORY: BEST IN MARKET AWARD
WINNER: Djalin, booth 1462
CATEGORY: BEST EXCLUSIVE LAUNCH
WINNER: Matr Boomie, booth 1641
CATEGORY: PERSONAL ACCESSORIES
WINNER: Idol Light, booth: 8565
Special Mention: Fortune & Frame, booth: 8151
Special Mention: Isabelle Gougenheim Designs, booth: 8254
CATEGORY: GIFT
WINNER: Paddywax, booth 7726
Special Mention: Studio Roof, booth: 7573
Special Mention: Edwin Jagger, booth: 7768
CATEGORY: TABLETOP + GOURMET HOUSEWARES
WINNER: Bugatti Italy, booth: 3311
Special Mention: Whole Harmony, booth: 3448
Special Mention: Tin Parade Party, booth: 3429
CATEGORY: ARTISAN RESOURCE
WINNER: Djalin, 1462
WINNER: Koluntu, booth 1263
Special Mention: Mo's Crib, booth: 1485
Special Mention: Organic Savanna, booth: 1581
CATEGORY: HANDMADE GLOBAL DESIGN
WINNER: Flags for New World, booth: 1780
Special Mention: All Across Africa, booth: 3735
Special Mention: Socco, booth: 1768
CATEGORY: ACCENT ON DESIGN
WINNER: Xoopar – INE, booth: 4146
Special Mention: Lund of London, booth: 4120
Special Mention: Ginkgo, booth: 3935
CATEGORY: HOME FURNISHINGS + TEXTILES
WINNER: Pretty Rugged, booth: 2862
Special Mention: Evangeline, booth: 3108
Special Mention: LinenMe, booth: 3132
CATEGORY: PERSONAL CARE + WELLNESS
WINNER: Gryph & IvyRose, booth: 8020
Special Mention: Simply Smita, booth: 7948
Special Mention: Scents of Europe, booth: 7974
CATEGORY: BABY + CHILD
WINNER: Open The Joy, booth: 7069
Special Mention: Jack Rabbit Creations, booth: 7019
Special Mention: Chewbeads, booth: 7015
CATEGORY: HANDMADE DESIGNER MAKER
WINNER: Rustico, booth: 1507
Special Mention: Indian + Purry, booth: 1229
CATEGORY: DISTINCTIVE LIVING
WINNER: Tightrope, booth: 2558
CATEGORY: BEST EXCLUSIVE LAUNCH
WINNER: Matr Boomie, booth: 1641
Like what you see? Get it first with asubscription to ASPIRE DESIGN AND HOME Magazine.